Taking their eyes off the ball
With the World Cup less than a month away, some of the heavyweight press have been looking beyond the 12 shiny new (or refurbished) stadia to the wider implications of international sport's biggest tournament.
David Goldblatt, writing for The Observer, looks at ambivalent Brazilian attitudes towards this year's tournament, where pride and patriotic support for the Seleção are mingled with alienation and antipathy towards the lavish public spending on a prestige project that does little or nothing to alleviate the economic and social injustices that still bedevil Brazilian society—despite more than a decade of popularly elected, social democratic government.
Goldblatt points out that the demonstrators of 2013 were for the most part not the very poorest:
A few organised bodies from the favelas who were actively opposing housing relocation were present, and some youths from the peripheries took part in some demonstrations, but the crowds were overwhelmingly made up of the urban middle classes – a category that stretches from downtown junior office workers to university professors.

As a class they had swelled under [Brazilian President] Lula and his successor, Dilma Rousseff, especially as enrolment in higher education had expanded, but their living standards had only inched forward. They were paying, in their own words, "European taxes to get Mozambican services".
Meanwhile, Iain Martin in The Daily Telegraph has taken a slightly tongue-in-cheek look at England's prospects and how they might affect the results of the referendum on Scottish independence this September.
The former editor of The Scotsman, he's perhaps unusual among his compatriots for supporting England against anyone but Scotland—the inverse of the ABE supporters who eagerly follow England's progress in international sport, but with the twist that defeat is cause for celebration. However, on this occasion he joins them in hoping England lose:
England winning would rescue Alex Salmond, who is, despite all his grinning and bluster, behind in the independence campaign. A World Cup win – with the London-based sporting media going nuts demanding a dukedom for Stephen Gerrard and banging on about football coming home, the boys of 1966 and all that – would be guaranteed to infuriate the Scots and swing it for the Nationalists.
The danger he fears is that, in the light of lacklustre recent performances, low English expectations and opponents' complacency could lead to the nightmare Unionist scenario of a shock England win and the breakup of the Union.
This wouldn't be the first time that England's performance on the pitch has been said to affect Britain's political landscape. In 1970 England's defeat to West Germany in the World Cup quarter-finals on 14 June was followed by the defeat of Harold Wilson's Labour government in the General Election four days later. Then again, Wilson had to some extent called down nemesis on his head by cheekily remarking after England's victory in July 1966, "Have you ever noticed how we only win the World Cup under a Labour government?"
Advertisement: The Facts Lab Book of Brazil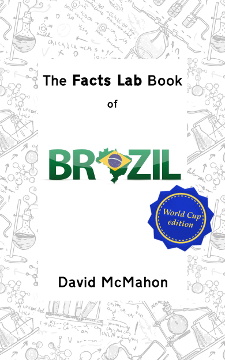 There's more to Brazil than football, favelas, Carnevale and caipirinhas! Our Kindle eBook The Facts Lab Book of Brazil: 101 amazing facts about Brazil and the Brazilians takes a look at the country behind the clichés.
If you're lucky enough to be heading down to Rio yourself, this eBook will tell you more about what you're heading into. If you're just watching the footie, you can amaze your friends with some of the obscurer trivia about both World Cups hosted by Brazil so far. And if you're fed up with watching 800-odd men chasing a ball around, you can keep yourself entertained some of the weirder snippets from its pages.
Buy the book!
You can buy The Facts Lab Book of Brazil through any local version of the Kindle Store. For your convenience, clicking on the book cover above will take you to Amazon.co.uk.
If you have the time, we'd appreciate it if you could rate or review the book on Amazon too – it's always good to have feedback. Thanks!
Not got a Kindle?
Don't worry, you don't need one. There are several Kindle reader programs, plugins and apps available at Amazon that cover most computers and smartphones.